Precision & Rapid

CNC Machining Services

ISO 9001 – 2015 Quality Certification.

5 Working Days For Delivery.

60+ Metal & Plastic Materials Choice.

12 Surface Treatment Capabilities.

Global Delivery.

One-Stop Processing Services.

Capital Security.

Online real China CNC milling factory quote.

Professional After-Sales Team 7*24 H Online Service

Global delivery, 3000+ customers choose HONGMING SHENG
Non-Disclosure Agreement
Hongming sheng always respects the rights of intellectual property rights and opposes any plagiarism or counterfeiting. Without the approval of the customer, we cannot disclose any relevant information to a third party, including but not limited to product drawings, design plans, product pictures, molds, manufacturing processes, etc. Hongming sheng is willing to sign NDA with customers to protect the interests of both parties.

HONGMING SHENG has been working on the accuracy CNC machining industry for 11 Years and has taken part in numerous big global procuremnet organization acquisition projects, including : auto parts, clinical equipment parts, military parts, and civilian parts. As your trusted CNC milling China company, we are a formal large-scale environmental protection enterprise, and it has passed ISO 9001-2015 standard and TS16949 certification.

These two are characterized as the global standard that indicates prerequisites for a quality management system(QMS). We use the standard to demonstrate the ability to reliably offer products and services that meet client and administrative prerequisites. It helps us with guaranteeing their customers to receive the high quality products and services over the CNC milling China market, which brings many advantages, including a loyal customer base and smooth management, and satisfied employees.

HONGMING SHENG depends on amazing machining abilities to give you CNC machining production solutions, which is regarded as the best over the CNC milling China market. Utilize 3D programming to build up item models, precisely communicate the processing problem to the PC, through the collaboration of cutting edge 3,4,5 axis processing equipments, your items have been running on proficient CNC production lines, holes, strings, dimensional resistances, and so on. All under our control.

As a top CNC milling China company , we are having an understanding of which sort of machine will be made on is basic in optimising your customized product. When planning a CNC machined part, you probably won't have contemplated which sort of machine your part will be machined on, however the intricacy and kind of calculation you can configure will be diverse for various sorts of machines. The main difference between 3-axis, 4-axis and 5-axis machining is the complexity of the movement both the workpiece and the cutting tool can move through, relative to each other.

The accuracy CNC machining focus is a high-effectiveness and high-accuracy programmed machining measure created by modern CNC milling china industry according to the traditional milling machine. It uses control and software to control the cutting of apparatuses and parts with mobile processing. It has numerous assortments of items, complex construction, accuracy and effeciency low advantage.


---



The popular Computer Numerical Control (CNC) machining services method uses machining tools by top CNC machining company, for cutting

metal or plastic to engrave complex shapes and cavities.
Top CNC machining china company applies Multi-axis CNC machine centers (5-axis CNC machine) to create very complex geometric structures on CNC machining parts , it maintains precision and batch processing , and are widely used in rapid prototyping.


CNC Turning Services
Computer Numerical Control (CNC) turning processing of high-speed rotating metal & plastic, efficiently manufactures a variety of complex geometric shapes on CNC machining parts, This is a popular technology used by the leading machined parts supplier worldwide.

It maintain the characteristics of precision and high efficiency, widely used in : thread | hole | shaft | spherical | groove and other processing.

HONGMING SHENG's high-efficiency Computer Numerical Control turning services ability can meet the rapid CNC machining parts prototyping and mass processing of any product. This is also known as the strongest indicator of productivity for China's industrial machined parts supplier.


---
Advantages Of


CNC Machining Services
1. Rich experience in CNC machining services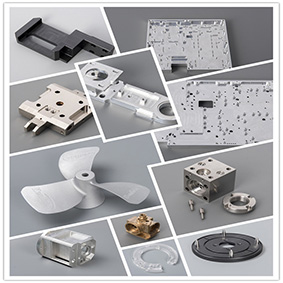 As the best Chinese CNC machining company, HONGMING SHENG have been focusing on precision CNC machining services for 15 years.The engineering team has participated in 15.000 products processing projects and accumulated rich experiences in CNC machining technology.

2. Strong Manufacturing Resources.



A true one-stop manufacturer and machined parts supplier with a huge network of production resources. Including: CNC Machining services, sheet metal fabrication services, metal processing services, plastic molding, molds make, and other 20 manufacturing processes.



3. Strict quality control.

Some CNC machining china company in the industry may not have a strict quality control, but HONGMING SHENG had passed ISO 9001-2015 quality certification, a complete quality control system can ensure 100% high-quality CNC machining parts delivery to customers, complete each production task in accordance with the designated quality plan, and deliver high-quality cnc machining parts that exceed your expectations.

All our products are of an acceptable standard, and it can reduce your inspection costs as you will have more confidence in HONGMING SHENG ability to produce without error and ensure production runs smoothly.

4. Share your worries

For you, a complete CNC machining services solution allows you not to worry about any trouble.HONGMING SHENG is one-stop CNC machining services, such as raw material inspection, product design, product processing, assembly, testing, inspection, packaging and transportation.
You can have plenty of working hours to expand your career.
---
01. Raw Material Quality Inspection

Long-run participation with large steel mills, all materials will have a material examination report by the sheet metal stamping company, HONGMING SHENG . (chemical report and physical report) before they are put into storage.

02. Initial Size Inspection

Before the CNC milling services,Measure the size of the material to prevent insufficient machining allowance and poor material.

03. Production Interaction Control

Develop a production schedule flow chart, control time nodes and production plans, and prevent delayed delivery.

04. Mid-Term Dimensional Investigation
Pay attention to each cnc milling processing node, review possible quality risks during product processing, and stop the processing of problem products in time

05. Final Size Examination
Relying on advanced CMM and other inspection equipment to carry out size inspection on cnc milling parts.

06. Surface And Establishment Test Review
100% shape quality control, and install and test product functions, reject and isolate parts with quality problems such as scratches and unqualified surface treatments.