Precision & Rapid

CNC Machining Services

ISO 9001 – 2015 Quality Certification.

5 Working Days For Delivery.

60+ Metal & Plastic Materials Choice.

12 Surface Treatment Capabilities.

Global Delivery.

One-Stop Processing Services.

Capital Security.

Online real China CNC milling factory quote.

Professional After-Sales Team 7*24 H Online Service

Global delivery, 3000+ customers choose HONGMING SHENG
Looking for precision CNC machining services that deliver exceptional quality and fast turnaround times? Look no further than our team! We specialize in providing top-notch CNC machining services that meet the highest standards of quality and accuracy. With our state-of-the-art equipment and experienced technicians, we can produce even the most complex parts and components with ease and precision.

Whether you need prototypes, small production runs, or large-scale manufacturing, we have the expertise and capacity to meet your needs. We pride ourselves on delivering fast, reliable service that meets or exceeds our customers' expectations. With our streamlined production process and rigorous quality control measures, we ensure that every part we produce is of the highest quality and meets your exact specifications.

So why wait? Contact us today to learn more about our CNC machining services and how we can help you achieve your production goals. Our team is ready to work with you to provide the best possible service and deliver the highest quality parts and components on time and on budget.
Non-Disclosure Agreement
Hongming sheng always respects the rights of intellectual property rights and opposes any plagiarism or counterfeiting. Without the approval of the customer, we cannot disclose any relevant information to a third party, including but not limited to product drawings, design plans, product pictures, molds, manufacturing processes, etc. Hongming sheng is willing to sign NDA with customers to protect the interests of both parties.
Advantages Of

CNC Machining Services
1. Rich experience in CNC machining services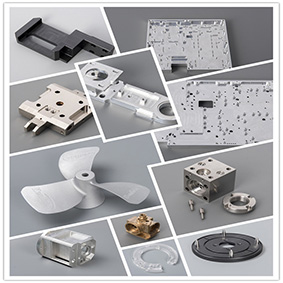 As the best Chinese CNC machining company, HONGMING SHENG have been focusing on precision CNC machining services for 15 years.The engineering team has participated in 15.000 products processing projects and accumulated rich experiences in CNC machining technology.

2. Strong Manufacturing Resources.



A true one-stop manufacturer and machined parts supplier with a huge network of production resources. Including: CNC Machining services, sheet metal fabrication services, metal processing services, plastic molding, molds make, and other 20 manufacturing processes.



3. Strict quality control.

Some CNC machining china company in the industry may not have a strict quality control, but HONGMING SHENG had passed ISO 9001-2015 quality certification, a complete quality control system can ensure 100% high-quality CNC machining parts delivery to customers, complete each production task in accordance with the designated quality plan, and deliver high-quality cnc machining parts that exceed your expectations.

All our products are of an acceptable standard, and it can reduce your inspection costs as you will have more confidence in HONGMING SHENG ability to produce without error and ensure production runs smoothly.

4. Share your worries

For you, a complete CNC machining services solution allows you not to worry about any trouble.HONGMING SHENG is one-stop CNC machining services, such as raw material inspection, product design, product processing, assembly, testing, inspection, packaging and transportation.
You can have plenty of working hours to expand your career.
CNC Machining: An Overview of Precision Manufacturing
CNC machining is a type of precision manufacturing that uses computer-controlled machines to create highly accurate parts and components. With the ability to produce complex shapes and features with high precision and consistency, CNC machining has become an essential technology in a variety of industries, including aerospace, automotive, medical, and electronics.
At its core, CNC machining involves the use of a computer program to control the movement of a cutting tool as it removes material from a workpiece. The program specifies the tool path, cutting speed, and other parameters, allowing the machine to create parts with a high degree of accuracy and repeatability. This level of precision is especially important in industries where safety and reliability are critical, such as aerospace and medical.
There are several different types of CNC machines, each with its own strengths and capabilities. Some of the most common types include:
1.

CNC mills: These machines use rotating cutting tools to remove material from a stationary workpiece. They can produce a wide range of parts, from simple brackets to complex engine components.
2.

CNC lathes: These machines use rotating workpieces and cutting tools to produce cylindrical or conical parts, such as shafts or gears.
3.

CNC routers: These machines use a rotating cutting tool to carve three-dimensional shapes from a wide range of materials, including wood, plastic, and metal.
4.

C

NC plasma cutters: These machines use a high-velocity jet of plasma to cut through metal, producing precise and intricate shapes.

In addition to these basic types, there are also specialized CNC machines designed for specific applications, such as wire EDM machines for cutting precise shapes from metal wire, or waterjet cutters for cutting materials using a high-pressure stream of water.

To achieve the highest levels of precision and quality, CNC machining requires skilled operators who understand the principles of machining and can program and operate the machines effectively. This typically requires extensive training and experience, as well as a thorough understanding of materials, tooling, and machining processes.

Despite the challenges, CNC machining offers significant advantages over traditional machining methods, including increased speed, accuracy, and repeatability, as well as the ability to produce complex shapes and features that would be difficult or impossible to create using manual methods. As a result, CNC machining has become an indispensable technology in many industries, and is likely to remain a key driver of innovation and growth for years to come.